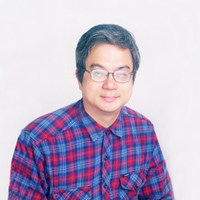 姓名
劉致為
職稱
教授
學歷
美國普林斯頓大學博士
電子郵件
cliu@ntu.edu.tw
Tel
+886-2-33663532
辦公室
電機二館 515室
辦公室時間
8:00 to 12:00 AM Sat.
網頁
http://cc.ee.ntu.edu.tw/~cliu/
著作列表網頁
http://w3.ee.ntu.edu.tw/publist1?teacher_id=901121&p=3
研究領域
His research includes SiGe/GeSn epi/photonics, stacked 3D transistors, device/circuit thermal simulation (physics-based and machine learning-based), IGZO TFT, and MIM/FTJ/MTJ/SOT/DRAM memory. He demonstrates the tallest transistor (16 stacked channels), the record high 2,400,000 cm2/Vs electron mobility in strained Si, the first Si-capped SiGe/Ge channels with 3x mobility enhancement (in 5nm node production now), the first CVD GeSn outperforming MBE in terms of hole mobility, the first stacked GeSn/GeSi channel GAA(nanosheet/nanowire) transistors, and the first Si/SiGe/SiC MIS LED/photodetectors. He also invented the tree/E transistors, beyond Stacked GAA.

He has 616+ papers (246+ journal papers, 28 IEDM, 10VLSI), 63 US patents, 2 China patents, 45 Taiwan ROC patents, more than 5929 citations with h-index=32, 42 Ph.D. graduates, and 132 master graduates. He has 6 graduate students as professors (2NTU, 1 NTNU, 1 NCHU, 1 NDHU, 1 NJUST), and 3 postdocs as professors (1 NTU, 1 NCU, 1 CGU). Currently, he is advising 16 PhD students and 13 masters.
自傳
Education:  
Ph.D. 1994 Electrical Engineering, Princeton University
MS.1987 and B.S. 1985, National Taiwan University, Taiwan
Working experience:
Deputy General Director(副主任, 2008-2013)/Senior full researcher(資深研究員,2011-2019), National Nano Device Labs
Research Director / Senior full researcher(資深研究員), ERSO/ITRI (2002-2005),
Researcher/consultant, IME, Singapore, 2005,
Visiting Professor, National University of Singapore, 2004, Lucent, Bell Labs, 2001

Honors: 
2021 General Chair, ISTDM/ICSI, Taipei, Taiwan
2020 Editorial Board of Nanomaterials
2018 IEEE Fellow
2018 Macronix Chair Professor(旺宏講座)
2018 國立台灣大學校特聘教授 (Distinguished Professor)
2017 Micron Chair Professor(美光科技講座)
2016-now, Associate Editor of IEEE Transactions on Nanotechnology (T-NANO)
2012-now, Editor of IEEE Transactions on Device and Materials Reliability (T-DMR)
2018-2020 ISTDM/ICSI International Advisory Committee
2021 ISTDM/ICSI General Chair
2016 Outstanding Research Award, Ministry of Science and Technology, Taiwan (科技部傑出研究獎)
2015 International Association of Advanced Materials Scientist Award 2015 (IAAMSA-2015), Sweden.
Guest Editor, MRS Bulletin: August 2014 - New Materials for Post-Si Computing
2012, Outstanding Research Award, College of Electrical Engineering and Computer Science(國立台灣大學電資學院學術貢獻獎) National Taiwan University.
2008-2011 Outstanding Primary Investigator Grant(國科會傑出學者研究計畫), National Science Council, Taiwan
2003-2005 Outstanding Research Award(國科會傑出研究獎), National Science Council, Taiwan
2003, 2004 Outstanding Research Award(傑出獎), ERSO/ITRI, Taiwan
Outstanding research award(傑出獎), National Taiwan Univ. 2003
2002 Semiconductor Research Corporation, Cross-discipline Semiconductor Research Award
2002 Organizer of Taiwan 1st SiGe workshop
2001 Outstanding young engineer, Chinese Electrical Engineering Society
Six-time recipients of research award, National Science Council, Taiwan (1995-2000)
Technical Program Chair, ISTDM (International SiGe technology and device meeting), 2008
Organizer: 2016 NARLabs-NST (Taiwan-Korea) bilateral workshop, Hsinchu, Taiwan; EU-Taiwan 450 mm workshop, 2009, 2013; Taipei, Taiwan 2010 nano/microelectronics and embedded system, Pilani, India; 2010, TW-Russia workshop, Taiwan; 2008, 2009 NSC-JST nano device workshop, Taipei, Taiwan.
Technical program Chair, SNDT (symposium of nano device technologies), 2007, 2011
IEDM Solid State and nanoelectronics subcommittee Chair 2010
International Photovoltaic Science and Engineering Conference (PVSEC 23) subcommittee chair, Taiwan 2013
(sub)committee member:
IEEE: IEDM 2008-2010, 2018-2019; SISC(Semiconductor Interface Specialists Conference), 2015-2016; ISNE 2014-2016; NMDC,2013; VLSI/TSA 2003, 2004-2019, 2020 (AP subcommittee chair); nanotechnology council, TPC on nano-optoelectronics and nano-photonics, 2006; IEEE International NanoElectr​onics Conference (INEC), 2011
Non-IEEE: The 4th International Conference on Silicon Photovoltaics ,Netherlands, 2014; ECS (SiGe: materials, processing, and devices) 2006, 2008, 2010,2012, 2014,2018; ICSI (International Conference on Silicon Epitaxy and Heterostructures )2005, 2007,2009,2011,2013 ; ISTDM (international SiGe technology and device meeting) 2003, 2004, 2006, 2008, 2010, 2012,2014,2016, 2018; ICSICT 2010, China; ISCSI-V 2007, 2013, ISCSI-VIII, 2019, Japan; SNDT 2005, 2006, Taiwan; 7th Vacuum and Surface Sciences Conference of Asia and AustraliaVASSCAA-7. Taiwan 2014; IIT2004; SSDM 2004; SMTW 2002, 2003, 2004; IEDMS, Taiwan, 2009, 2010,2011, 2013, 2018; OPTIC,Taiwan, Solar cell subcommittee chair, 2012.