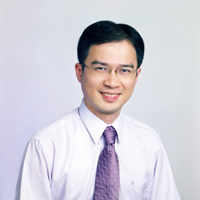 姓名
黃建璋
職稱
教授
學歷
美國伊利諾大學博士
電子郵件
Tel
+886-2-33663665
辦公室
博理館 620室
著作列表網頁
https://www.ee.ntu.edu.tw/publist1.php?teacher_id=941015&p=3
研究領域
LEDs:
1. Nanostructure LEDs
     *Nanorod LED arrays from device physics to device characterizations
     *Photonic crystals
     *microwave optics
2. Nonpolar/Semipolar LEDs
3. AlN/GaN templates for epi-growth

Biophotonics
1. Transistor protein sensors
2. Nanorod/nanowire cancer cell probes

IGZO TFTs
1. Device design, fabrication and characterizations
2. Circuit design, fabrication and characterizations
3. Stress/reliability analysis

Power devices
1. GaN Schottky barrier diodes on Si substrate
2. E-mode/D-mode GaN HEMTs on Si substrate
自傳

JianJang Huang received the B.S. degree in Electrical Engineering (EE) and the M.S. degree in Graduate Institute of Photonics and Optoelectronics (GIPO) from National Taiwan University (NTU), Taipei, Taiwan, in 1994 and 1996, respectively, and the Ph.D. degree in Electrical Engineering from the University of Illinois, Urbana-Champaign, in 2002. In Illinois, he demonstrated the first real working GaN-based HBTs with common emitter current gain 11 at room temperature and 31 at 175K in 2000. He also demonstrated a novel Asymmetric Fabry-Perot Modulator for optical communications. He had worked with WJ (Watkins Johnson) Communications in California, as a Staff Scientist from 2002 to 2004. He was in charge of the development of GaAs HBTs for power amplifiers (PAs) and the benchmark of GaAs MESFET PA yield rate in the production line. He then came back to Taiwan and joined the faculty members at NTU EE and GIPO in 2004.

Prof. Huang has devoted to the use of nanostructures for optoelectronic and biophotonic applications. He developed a spin-coating method for nanosphere lithography (NSL) which can be applied to nano-materials or nano-structures for significant performance improvement of light emitting diodes (LEDs), solar cells and nanorod devices. In recent years, he has focused on the research of cancer cell nanoprobes and protein sensors. He and his group bind ZnO and TiO2 nanorods with antibodies for the in vivo and in vitro detection of cancer cells. The IGZO thin films transistors have also been employed as the protein sensors with extremely high sensitivity.

   Prof. Huang's scientific accomplishments have been recognized by numerous awards. He is a member of the Phi Tau Phi Scholastic Honor Society. He received "Wu Da-Yu" award in 2008, the most prestigious one for young researchers in Taiwan sponsored by National Science Council. And in the same year, he received the award for the most excellent young electrical engineer from the Chinese Institute of Electrical Engineering. He is the chair of SPIE (San Diego, CA, USA), International Conference on Solid State Lighting, the board director of Global Communication Semiconductor, Inc. in CA, USA. He currently serves as the Editor in IEEE, Transations on Electron Devices.