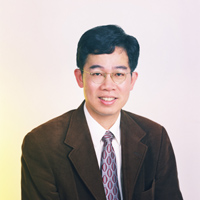 Name
Lung-Han Peng
Title
Professor
Education
Ph.D., Harvard Univ., U.S.A.
Email
Tel
+886-2-33663649
Office
EE Building Ⅱ, R439
Office hour
Friday 16:00~ 18:00
Website
http://feped.serveftp.com/
Publication List
https://www.ee.ntu.edu.tw/publist1.php?teacher_id=941004&p=3
Research Topics
1. Ferroelectric nonlinear photonics for laser and display applications
2. Nitride based nanowire and nanocrystal light emitting diodes and transistors
3. Nanocrystal based phase change memory devices
4. Integration of Ge-based nanowire transistor with Si technology
Autobiography
Downloading attachment file​
Lung-Han Peng (
彭隆瀚
) was born at Bay-Kang (
北港
), Taiwan in 1964. He received his bachelor's degree in Electrical Engineering from National Taiwan University in 1986, and his Master's and Ph.D. degree in Applied Physics from Harvard University in 1989 and 1994, respectively. He was a visiting scientist at Massachusetts Institute of Technology in 1994 and post-doctoral fellow at Oak Ridge National Laboratory in 1995. 
He is now a professor at the Institute of Electro-Optical Engineering and Department of Electrical Engineering in National Taiwan University. His research interest includes semiconductor optics and nonlinear optics. 
| Year | AcademicAdvising Category |
| --- | --- |
| 2023 | M.A |
| 2023 | Ph.D. |
| 2022 | M.A |
| 2022 | Ph.D. |
| 2021 | M.A |
| 2021 | Ph.D. |
| 2020 | M.A |
| 2020 | Ph.D. |