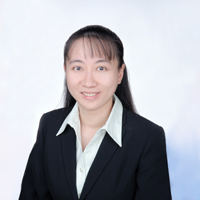 Name
I-Chun Cheng
Title
Professor and Vice-chairman
Education
Ph.D., Princeton Univ., U.S.A.
Email
Tel
+886-2-33669648
Office
Ming-Da Hall, R621
Office hour
Tue. 14:00PM~16:00PM
Publication List
https://www.ee.ntu.edu.tw/publist1.php?teacher_id=941023&p=3
Research Topics
Nanocrystalline silicon thin film technology
Flexible electronics
Autobiography
I-Chun Cheng was born in Taipei, Taiwan. She received the B.S. and M.S. degrees in mechanical engineering at National Taiwan University in 1996 and 1998, respectively, and the Ph.D. degree in electrical engineering from Princeton University in 2004. Following her degree, she became a postdoctoral research associate at Princeton University. She joined the faculty of National Taiwan University in 2007, where she is currently a Professor of Department of Electrical Engineering and Graduate Institute of Photonics and Optoelectronics. She has primarily worked in the field of metal oxide semiconductor thin-film device technology, photoelectrochemical solar cells and flexible large-area electronics.
Dr. Cheng is a member of the Institute of Electrical and Electronics Engineers (IEEE), the Materials Research Society (MRS) and the Society of Information Display (SID). She received the Project for Excellent Junior Research Investigators (優秀年輕學者計畫) and Dr. Ta-You Wu Memorial Award (吳大猷先生紀念獎) from the Ministry of Science and Technology  in 2012 and 2016, respectively.
| Year | AcademicAdvising Category |
| --- | --- |
| 2023 | M.A |
| 2023 | Ph.D. |
| 2022 | M.A |
| 2022 | Ph.D. |
| 2021 | M.A |
| 2021 | Ph.D. |
| 2020 | M.A |
| 2020 | Ph.D. |