~ 2011 Academic Exchange with Nanjing University Ph.D. Students ~
(Time: October 8 - 14, 2011; Location: Nanjing University)
Composed by Liang-Yi Chen, GIPO Ph.D. student, captain of NTU team
On Oct.10, 2011, the 100 years' birthday of the Republic of China, we arrived at Nanjing, the former capital of the R.O.C. For both sides' students and professors to meet and interact in such circumstances, the significance is extraordinary.
I was very happy to be able to attend the 2011 exchange between GIPO and NU Physics College. I had heard of this event before and felt honored, and a bit nervous, being a member and the captain of our team, responsible for contacting NU in dealing with students' affairs. Hereunder, I would like to share with you firstly, my experience and what I've learned in performing my duty; secondly, what I've learned after having attended this event.
While thinking of attending this event, I learned some of its history from Ms. Hsiao-Wen of the GIPO office. This is the 4th time of the GIPO and NU Physics College's exchange. Every year, each university takes turns to visit the other. Last year, NU came to Taiwan, and therefore, we visited them this year. In addition to academic seminars, there are cultural tours, visiting each other's places of historic interest and scenic beauty.
As guests, we were more relaxed in the preparation for this event. All schedules were arranged by 3 young NU teachers, Liang Sun, Gang Zhao and Xiang Xiong. Among them, Xiang Xiong came to visit us as a student last year; after having graduated this year, he is now a NU teacher and NU's contact person for this event. He was also my main contact. I have since realized that the aforesaid 3 teachers are more like lecturers than professors who could accept students as disciples. They are younger as well.
(from left) Teacher Liang Sun, Teacher Gang Zhao, Teacher Xiang Xiong, Professor Jr-Hau He, Chairman Ching-Fuh Lin, and Vice Chairman Chih-I Wu; taken at the dinner restaurant on the 1st day of arrival
Our team members met 3 times before heading for Nanjing. In the 1st meeting, each member provided a brief self-introduction, including which laboratory he/she came from and his/her field of study. Then each of us was assigned to a post on the team, and all members discussed our flight schedules. In the discussion, some said that mainland airlines were not safe enough; however, there were no Taiwanese airline flights that matched our schedule. In the end, we had no alternative but to take mainland's East Airline. After having taken East Airline, I feel that taking off and landing were OK, but the aircraft departed for more than half an hour late, and most members said the service of the flight crew was quite poor. Consequently, I would suggest that, if scheduling allows, future members fly with a Taiwanese airline instead.
During the 2nd meeting, I collected members' CV and summaries of their reports, and then sent them to NU's contact teacher - Xiang Xiong. The PowerPoint of our reports were collected by Chung-Lun Wu, the assistant captain of our team. Although accompanying teachers would attend our seminars, these seminars would be basically conducted by students themselves. Therefore, we also selected a host for each of the 3 seminars: they were Chung-Lun Wu, Chun-Lin Chang and Chien-Yu Chen. These 3 would co-host the seminars with 3 NU students, and they were very serious about their duties, reviewing the NU students' reports beforehand in order to guide and encourage discussions.
The 3rd meeting was basically an introductory orientation. Our schedule was confirmed, and a checklist for things-to-carry was made.
This was the 1st time I visited mainland China. Some said Nanjing is not a big city. However, walking on its streets, I felt that it almost looked like Taipei. It was as I had heard before; the mainland's buildings and infrastructures are above par, and perhaps even superior to those of Taiwan. However, on its streets, cars would not give way to pedestrians and horns were sounded constantly. I then realized that Taiwanese people were still better-mannered. With that being said, the students we met during the exchange and on campus were much more friendly and polite, possibly because of their education.
In addition to learning a great deal during our academic exchange, we also were impressed greatly by the grand scenery of Mt. Huang and the ruins of an ancient Huay-Sun village during the cultural tours. In addition to interacting with NU students during this week, I believed that it's even more important that our own members got to know each other better than ever before after this event. Every one of us came back enriched. I would suggest you join the team in the future if you have the opportunity.
A group photo of the Ph.D. students of our team
Composed by Hsiang-Chun Wei, GIPO Ph.D. student
I was honored to be able to attend the 4th exchange with Nanjing University's doctoral students. This time, Nanjing University expanded the event into a "2011 Nationwide Doctoral Students' Leading Edge Forum of Condensed Matter and Optoelectronic physics, and the 4th Cross-strait Doctoral Students' Forum". Therefore, besides NU and GIPO, there were also students from Soochow University, Sun Yat-sen University, Nankai University, Shanghai Jiao Tong University, Nanjing University of Science & Technology, Whyyoung Engineering College and Tsinghua University. Students made use of this opportunity to exchange ideas about research and life.
First of all, we would like to thank NU's teachers and students for their kind hospitality, which made this event not only a successful academic exchange but also a precious historical and cultural journey. We, students, accompanied by Chairman Ching-Fuh Lin, Vice Chairman Chih-I Wu, Professor Zhe-Chuan Feng, and Professor Jr-Hau He, had a wonderful time enjoying these 7 days' activities. On the 1st day, the 4:30 pm plane did not start boarding until almost 6 pm, and arrived at Nanjing Lukou International Airport at almost 8 pm, and this delay kept the receiving NU teachers Liang Sun, Gang Zhao and Xiang Xiong waiting for a long time. On the bus, Liang Sun briefed us on the schedules of the next few days and Gang Zhao, along the way, introduced to us the geographical environment and historical background of Nanjing.
During the next two days of the seminar, through the guest reports and student exchange research reports, we were deeply impressed by mainland students' conscientiousness about theories and fluency in logic reasoning, giving us a lot to learn from.
In daily conversations with the mainland students, we often talked about things like the educational system, work, entertainment, traffic, food etc., and seldom talked about the sensitive subjects between both sides. Hereunder, I would like to elaborate on the above-mentioned things.
The mainland's educational system requires 3-year study for master or doctor degree; however, Taiwan's system requires 2-year and at least 4-year studies to earn master and doctor degrees, depending on each student's accomplishment. Their doctor graduates could stay in the same school and work as a lecturer, which is equivalent to our assistant professor. One thing is unique in their system: the mainland's professors do not have as much autonomy as we do. In mainland China, a head professor leads a group of professors to do research.
With regard to work, the starting salary of their master graduates in industries is about 6,000 to 8,000 RMB and that of doctor graduates in industries in big cities is 10,000 to 12,000 RMB. However, industries in small cities can not afford to pay for the aforesaid doctor graduate's salary. Doctor graduates have to accept a master graduate's salary if they wish to work in small cities. If doctor graduates teach in school, their salaries would be less than 4,000 RMB.
As for entertainment, mainland students are very similar to Taiwanese students. They like listening to and singing pop songs, watching idol dramas and surfing the internet to pick up new information and share inner thoughts. What makes me feel happiest is that they love Taiwan's dramas more than we do. Because of the popularization of Beijing language, except for some retroflexion when they talk, we are unable to hear any difference from us when they sing Taiwan's pop songs. In addition, because of their state's policy, mainland China has blocked many websites and softwares. We use mostly msn and facebook for web chatting, but mainland students use QQ and www.renren.com instead. Use their websites if you would like to get to know them better. Mainland China has many of their own sport equipment brands, such as Lining or Annta sports. We realized that they seldom buy well-known European or American merchandise, which reminded us that Taiwanese students should learn from them and buy more MIT products.
Nanjing's transportation is convenient and smooth. There are lots of buses and taxis on the road. The interior designs of their buses are the same as those of Taiwan's air-conditioned buses. The starting cost of taking a taxi is 9 RMB, which is comparatively less expensive. However, passengers have to pay 2 RMB more for fuel tax if they ride during nighttime. NU students ride bicycles on campus, same as we do. On top of that, there are some electric bicycles which are quiet and not too fast. But, because it does not have an engine to make noise, electric bicycle riders seem to enjoy sounding their horn in a long and continuous way to make sure everyone hears them. NU students told us that because, in the mainland, no one is afraid of vehicles, riders have no alternative but to do this to protect themselves.
The hotel we stayed at is "Nanyuan", located in NU's campus, which is used for the specific purpose of receiving foreign guests. Its facilities are quite good, including internet, TV and bathroom facilities. We would like to thank NU for going out of their way to provide us with power outlet adapters. The shower stall is semi-transparent and quite "atmospheric", and this made us a little embarrassed. But, really, there is nothing to be embarrassed about since we're all guys. We were also told that there is a women's dormitory by Nanyuan, which is the biggest in Asia, and the men always look forward to visiting at the beginning of each semester, when they can use the excuse of helping girls move in. NU's female students have said that because there are no drapes in their dormitory, they have to paste wallpapers on the window or hang clothing by it. In addition, because there is no hot water in their dormitory, students have to bring their soaps and washbasins during evening to bathe at the student bathhouse. Although I considered taking a shower in the student bathhouse for the unique experience, after a long day's activities, it was always closed before I was free.
Concerning food, we would like to thank NU for providing us with an abundance of delicious dishes during mealtimes. NU students introduced famous local dishes to us, such as "duck's blood & green bean noodle hot pot", "rock sugar glutinous rice lotus root" and "pressed, dried & salted duck". The most famous local food is "Yangcheng Lake Daisy Crab". As a poem reads: "When Autumn wind blows, I follow the smell of crab here", the Yangcheng Lake Daisy Crabs have grown fat with roe and meat during this time. What interests us the most is that NU students have told us that there are 3 kinds of Daisy Crabs: locally-born and bred Daisy Crab, foreign-born and locally-bred Daisy Crab, and lakeside-bred Daisy Crab. Sounds interesting, doesn't it? In addition, we witnessed the great drinking capacity of Deputy Dean Zhenlin Wang. Our Chairman Ching-Fuh Lin can also hold his drink quite impressively.
Since it was the centennial birthday of R.O.C. and the centennial anniversary of national father Yat-Sen Sun's 1911 revolution when we were visiting NU, it meant a lot to make the pilgrimage to Yat-Sen Sun's tomb at that time. On a platform up the stairs of his tomb, there are two big tripods, on the sides of those tripods; there are some bullet holes, which were left by Japanese soldiers when they invaded China during World War II. A proverb says: "The small and weak will be bullied, and those who fall behind will be beaten." NU students have told us that this proverb comes from "Quotations from Chairman Mao Tse-Tung", and worth some reflection. Speaking of quotations, like us, mainland students have to take dogma thought classes. Nevertheless, like us again, they have also gradually come to ignore the strictness of these things and just take them as references.
After 7 days of exchange and time spent together, as usual, both teams chose one member of the other for the congeniality award. Our captain Liang-Yi Chen and NU's Ming-Xue Li, who have accompanied us all these days, won the honorable prize.
In conclusion, we would like to thank GIPO for providing us with this excellent opportunity to get to know so many mainland friends and establish better relationships with other GIPO students. We have also gained a lot in academic achievements through the interaction. Above all, we would like to thank NU teachers and students for their hospitality. This was truly a worthwhile and greatly beneficial trip.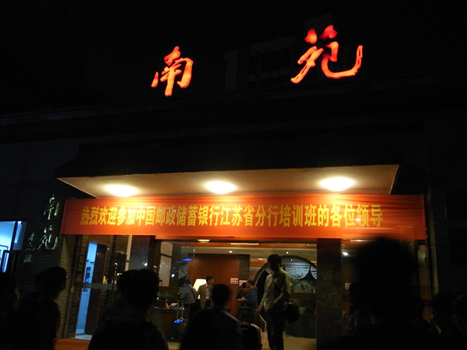 Nanyuan hotel, NU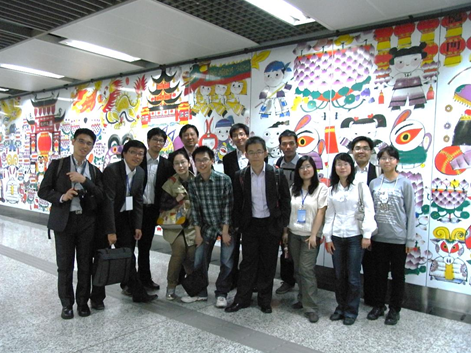 A group photo taken at a subway station on route to Confucius' temple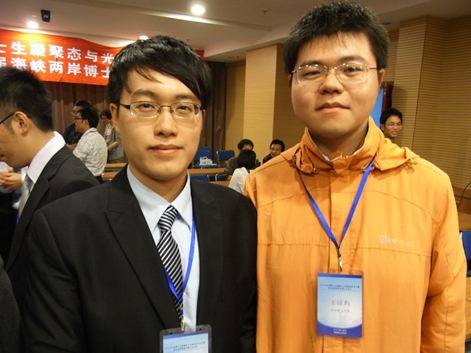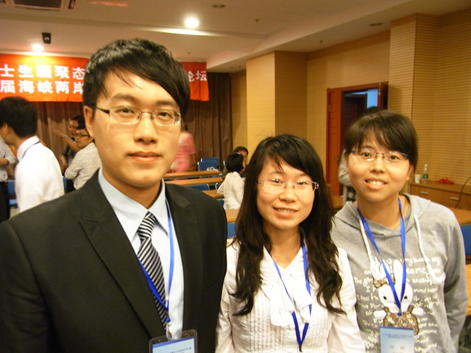 A group photo of student Yi-Jiun Chen (top left, bottom left) and mainland students - the winners of thesis prize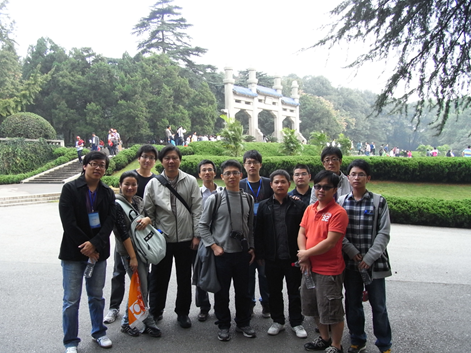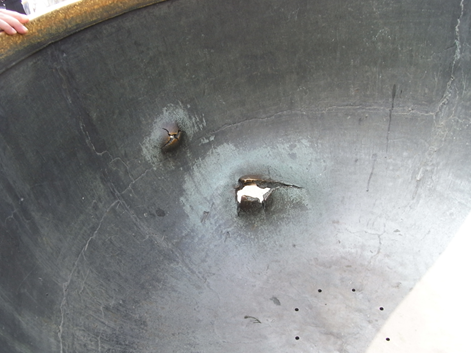 (top) A group photo taken in front of Yat-Sen Sun's tomb; (bottom) Bullet holes left by Japanese soldiers during World War II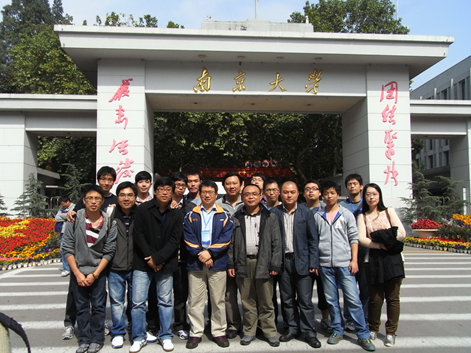 A group photo taken after visiting laboratories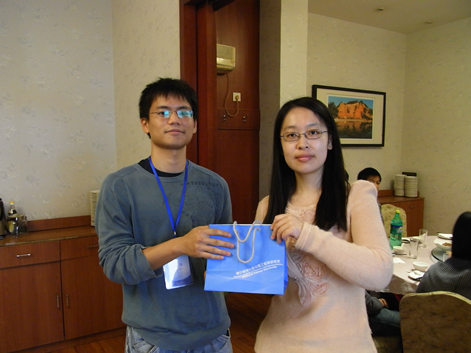 The congeniality award - NU winner (top right, bottom right), GIPO winner (top left, bottom left)
~ The 2nd Cross-Strait Forum on Optics and Photonics ~
(Time: November 28 - 30, 2011; Location: Barry Lam Hall, NTU)
Composed by: Wen-Ping Chen
After having successfully held the 1st cross-strait photonics study camp last December, GIPO Prof. C. C. Yang has once again held the 2nd at Barry Lam Hall, EECS, during Nov. 28~30, 2011. At 8:30 am on Nov. 28, under the supervision and blessing of Chao-Han Liu, former associate dean of Academia Sinica, Tzong-Ho Bau, vice president of NTU, and Lin-Shan Lee, dean of EECS, the camp started its 3-day-long packed agenda. There were 10 teachers and 24 students (post-doctorate researchers and Ph.D. students) from mainland's Peking University, Tsinghua University and Nanjing University, and 20 teachers and 24 students from our National Taiwan University, National Tsing Hua University, National Chiao Tung University and National Cheng Kung University attending this camp. Its agenda includes: lessons given by teachers, oral presentations given by the students, and poster exhibitions, and cultural tours. The purpose of holding this camp is to promote both sides' academic educational understanding and respect and to create further cooperation opportunities. It is a new undertaking and a learning process as well.