~ The Second International Conference on White LEDs
and Solid State Lighting (White LEDs 2009) ~
(Time: December 13th ~ 16th, 2009; Location: Taipei International Convention Center)
Composed by: Wen-Ping Chen
The Second International Conference on White LEDs and Solid State Lighting (White LEDs 2009), held by GIPO's Professor C. C. Yang, took place on December 13th~16th, 2009, at Taipei International Convention Center. The conference lasted for two and half days, showcasing 156 published papers, including 3 of the keynote speeches, 20 of the invited talks, 7 of the industrial forums, 41 of oral presentations (contributed papers) and 85 of poster presentations (contributed papers). The event attracted 330 specialists from 15 countries/regions, including Austria, Mainland China, Germany, Hong Kong, India, Israel, Japan, Korea, Lithuania, Malaysia, Holland, Russia, Taiwan, United Kingdom, and USA. The conference featured eight major topics, including "Semiconductor epitaxial growth and characterization for LED fabrication," "Organic/polymer and phosphor material preparation for OLED/LED fabrication," "Semiconductor LED design and fabrication," "Organic/polymer light-emitting device design and fabrication," "Nanotechnology for enhancing emission efficiency," "Packaging and system," "Various applications," and "Other LED topics."
The conference events were plentiful and diverse. There were 3 keynote speeches on the morning of the first day (Dec. 14th). The invited speakers were Professor Fred Schubert of Rensselaer Polytechic Institute (USA), Professor James Speck of University of California at Santa Barbara (USA), and Professor Katsumi Kishino of Sophia University (Japan). In the afternoon, there were 2 oral sessions - Epitaxial growth (I) and Packaging, followed by the poster session. The conference reception took place in the evening of the first day. During the morning of the second day, 4 sessions took place - OLED and phosphor (I), LED device (I), OLED and phosphor (II), and LED device (II). In that afternoon, there were 2 sessions - Applications (I) and Applications (II), and an industrial forum, where 7 industrial specialists were invited to lecture and held a panel discussion. A conference banquet ended the day. During the morning of the third day, (Dec. 16th), there were 4 sessions discussing epitaxial growth and LED device. In consideration of the fact that many of the conference participants were visiting from other countries, special arrangements were made so that these participants had a chance to visit the National Palace Museum on the afternoon of the third day. This short trip hopefully provided participants with more opportunities for face-to-face interaction and cultural exchange.
The conference took place in mid-December while the weather in Taipei was cool and comfortable; in addition there were no other international conferences taking place at that period of time. Thus, there were a large number of foreign specialists participating in this conference. Furthermore, the hardware facilities of the conference site, Taipei International Convention Center, were excellent, and the surrounding environment as well. These advantages served to greatly elevate our country's international reputation. During the reception and the banquet, the Lan Yang Dancers and the Han-Tang Yuefu Ensemble were invited to perform, and students of National Taiwan University of Arts were also invited to perform traditional Chinese music. Their performances received tons of praise.
In order to give due attention to both theory and practical application, we arranged the industrial forum and invited industrial specialists from Malaysia, USA, Taiwan, Mainland China, Germany, Japan and Korea to publish papers and participate in discussions. They interacted closely with the conference participants and thoroughly answered questions. The industrial forum was truly a rare opportunity for the industry and academia to exchange information and share knowledge.
Taiwan is not only the world's leading producer of LED, but also one of the front-runners in LED-related research. This is the second time the conference has been held in Taipei, and its meaning is significant. There were 330 specialists taking part in the event, including those from the local academia, industry, and research institutes, and those from many other countries. This is a great occasion for Taiwan's photonics industry and academia, and will greatly influence the development in Taiwan's related research and industry.
| | |
| --- | --- |
| Sign-in desk | Keynote speech |
| | |
| --- | --- |
| Conference session | Poster session |
| | |
| --- | --- |
| Panel Discussion (Industrial Forum) | Conference banquet |
| | |
| --- | --- |
| Conference banquet | Invited speakers with the Han-Tang Yuefu Ensemble |
~ Asian Conference on Ultrafast Phenomena ~
(Time: January 10th ~ 13th, 2010; Location: Barry Lam Hall, NTU)
Composed by: Chia-Hsun Chiao
Professor Chi-Kuang Sun of GIPO held the 6th Asian Conference on Ultrafast Phenomena on January 10th~13th, at the beginning of the new year. 150 scholars from 10 countries registered and participated in this conference. The conference was also open for students and teachers of GIPO, Department of Electrical Engineering, Department of Physics, Chemistry Department, etc. to attend without charge. We believe that with this conference, through the exchanges and interaction among many countries' scholars, we will be able to achieve the purpose of promoting the research of ultrafast phenomena, integrating Taiwan's ultrafast phenomena research projects, and promoting international research collaboration. Thus, higher education in Taiwan can also be elevated accordingly.
The Asian Conference on Ultrafast Phenomena is held every other year. It began in 1999 in Korea, then subsequently in Japan, Mainland China, Hong Kong, and Singapore. GIPO's Professor Chi-Kuang Sun chaired this 6th conference. Aside from scholars from the above-mentioned countries, there were also scholars from USA, Russia, Canada, and India this time. Topics that were discussed covered the study of ultrafast phenomena in optics, physics, chemistry, and biology. In addition to providing opportunities for all scholars to share the newest research results, the conference also provided an opportunity for foreign scholars to learn of Taiwan's research accomplishments, and was, therefore, an important event for promoting international collaboration.
The 6th conference began on January 10th and ended on January 13, lasting 4 days. The opening ceremony took place with Professor Chi-Kuang Sun as the host. In total, 35 world famous scholars were invited to give talks and 90 research papers from all over the world were submitted for the conference. Professor Sun addressed participants by saying the following: Asia's great progress during the last decades is not only obvious to all, but has also allowed Asian countries to become a major force in the technological development of the world. Femtosecond technology is now one of the most advanced areas of science. It not only links closely with ultrafast phenomena study, but also deeply influences research in the areas of clinical medicine, environment and energy, high-speed communication, nano-fibers, and national security. Countries in Asia could possibly lead the world in science and create new milestones if they could increase exchange and collaboration in ultrafast phenomena research.
In addition to the invited talks, we also arranged oral and poster presentations for the contributed papers. This was done to allow conference participants opportunities to discuss particular subjects on-site during the four days of the conference. The conference also featured a contest for the Best Paper Award, sponsored by Coherent/SuperbIN. Graduate students and postdoctoral researchers who had submitted papers made oral presentations and competed for the Best Paper Award. NTU's Chien-Sheng Liao of the Department of Physics stood out above the rest and became one of the five winners.
Aside from discussion of research, this conference was also held with the goal of increasing internationalization of NTU. Professor Sun introduced NTU's history, its academic status in Taiwan, and its current research projects of international collaboration. During the conference, a Russian scholar proposed a joint project, expressing a wish to promote academic collaboration between our two countries. Professor Sun also made arrangements for conference participants to visit the National Palace Museum, and introduced National Chiang Kai-Shek Memorial Hall, the Grand Hotel, and the Taipei 101, all of which are famous landmarks in Taipei. We hope to introduce to our world scholars Chinese culture, and some of its historical relics. Hopefully, our conference participants also experienced the colorful features of Taipei city.
The 6th Asian Conference on Ultrafast Phenomena has been brought to a successful close. It has not only achieved the original goal of integrating Taiwan's ultrafast phenomena research efforts and promoting international research collaboration, but has also allowed our staff to gain valuable experiences in handling international conferences. With these experiences, we will do even better hosting other international conferences in the future. GIPO will continue to support NTU's professors and students and Taiwan's academia in participating in more international conferences, so as to promote international research collaboration, and to improve our country's higher education.
~ A memoir about the visit of 3 EU countries' 5 universities, concerning Erasmus Mundus MSc in Photonics ~

(Time: March 1st ~ 5th, 2010; Visit: Belgium, Sweden, UK)
Composed by: Prof. Sheng-Lung Huang (Chairman of GIPO, NTU)
The Erasmus Mundus programme of the European Union aims to integrate EU's higher education and to improve its quality. There are over a hundred master programmes, in different fields, under EU's Eramus Mundus programme. In addition to improving the quality of higher education in EU countries, this programme also seeks to cooperate with top universities of non-member countries. The first stage began in 2004 and ended in 2008, spending 230 million Euros. The second stage began in 2009, and will end in 2013, with its budget amounting to 950 million Euros. During this second stage, EU is also, for the first time, accepting non-member country's universities as full partners in conferring joint or double degrees.
There are 5 universities from 3 countries taking part in Erasmus Mundus MSc in Photonics (EMMP) programme, coordinated by Ghent University (Belgium) and has four other consortium partners: Vrije Universiteit Brussel (Belgium), University of St Andrews (UK), Heriot-Watt University (UK), and Royal Institute of Technology (Sweden). In early 2009, while on sabbatical and studying in Ghent University, NTU professor Ruey-Beei Wu thought of the possibility of a cooperative project between UGent and NTU. Therefore, he enthusiastically contacted Prof. Roel Baets, the coordinator of EMMP, and myself. Professor Roel Baets then, after learning of NTU's solid strength in photonics, invited me to participate in their EMMP summer school, a programme in which master students from 5 universities attend together at UGent in June 2009. Through participation in this event and through meetings with coordinating professors of the 5 universities, I have come to understand that EU universities are conscientious and pluralistic about education, and have designed their courses to address the needs of students' learning. I then realized that there is indeed a lot we can learn from them. I, therefore, invited Prof. Roel Baets to visit NTU when he had the chance to travel to Asia last August. He was received by Dr. Tung Shen, Dean of the Office of International Affairs, NTU, personally. Dr. Tung Shen actively promoted NTU's participation in the second stage of the EM programme. The joint course programme and double degree partnership have been strongly supported by the former dean Soo-Chang Pei and the incumbent dean Lin-Shan Lee of the College of Electrical Engineering and Computer Science. All this has helped create EU universities and NTU's double master degree programme.
After having interacted with EU's education system, I have realized that Taiwan's Americanized education system is very different from EU's. This EM project is very much characterized by students' mobility in learning. Under the circumstances, in order to create substantial cooperation, EU's education concept has to be integrated with NTU's master degree norms, and each partner university's course guidelines and academic rules have to be further discussed. Moreover, EU's master degree emphasizes the importance of having diverse courses, including: the core, the advanced, the multidisciplinary, and the transferable skills courses; however, NTU focuses on specialized courses and the degree thesis. Each has its merits, and yet each could also learn from the other. Master students are important human resources of academic study, in Taiwan especially; therefore, participating in the EM project could elevate students' global perspective and, via joint thesis from both EU universities and NTU, could also promote academic cooperation amongst countries. Thus, in order to further understand relevant operation procedures and to further assess the possibility of cooperation of study fields, it is necessary for EU universities and NTU's professors and administrators to communicate further. For these reasons, in late 2009, in a briefing to EECS to strive for NTU's "Top University Plan" funds, I brought up the idea of visiting the 3 EU countries' 5 universities. This idea was strongly supported by EECS and received with enthusiasm by GIPO colleagues. Therefore, a visiting delegation of seven, including Vice Chairman Gong-Ru Lin, Professor Ching-Fuh Lin, Professor Hoang-Yan Lin, Professor Chih-I Wu, Professor Snow H. Tseng, Ms. Hsiao-wen Lin - the administrator of international affairs of GIPO, and myself, was formed, and the visit was scheduled for early 2010.
After having heard my idea, Prof. Baets and other universities' coordinating professors responded with enthusiasm. Each school prepared for our visit, arranging small workshops, arranging meetings with high-level school staff, allowing us to visit important laboratories, setting up interviews with EM programme students, etc. Unfortunately, due to the fact that our professors still had duties in NTU, we could spend only a week visiting Europe. However, we were loath to miss any of the 5 universities. Finally, an extremely tight schedule was reached, we would have to visit one university a day, starting from Monday and ending on Friday. Prior to the visit, we held 3 meetings within GIPO in order to divide work amongst colleagues and to plan out our itinerary. For each of the 5 universities, one of us was made responsible for a thorough understanding of it. Professor Ching-Fuh Lin also promised to ask his father-in-law, Mr. Tseng-Hwei Lin, a famous calligrapher, to create a work of calligraphy as a souvenir for each university.
Our European tour of 5 universities in 5 days gave us a feeling of toiling night and day. I recall when we arrived at Sweden, it was snowing while the plane landed in Stockholm at 9:30 pm. When we were assigned to hotel rooms, it was sometime past 11 pm, and we had to face the awkward situation of cleaning without any soap, because of an environmental friendly policy. To make things worse, early next morning, we had to walk in the snow to the location of the workshop before it started at 9 am. After such a busy day, we then had to get up at 4 am on the morning of the third day to pack our luggage in time to take the 7 am plane from Stockholm to Edinburgh, UK. These situations were typical of the jam-packed trip. Nevertheless, when we were warmly received by each university, when our colleagues were engrossed in animated discussions with our hosts, and when our EM project became clearer and clearer, I was convinced that all our toil would be worthwhile. We will publish other professors' articles concerning this visit and the EM project in subsequent GIPO Newsletters.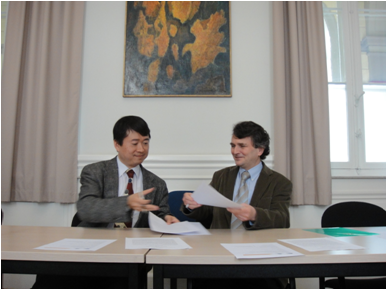 Figure 1: Exchanging partnership agreements, signed by Si-Chen Lee, President of NTU, and Paul Van Cauwenberge, President of UGent, with Prof. Roel Baets.
Three things about this visit made a deep impression on me, and I believe I have gained much from them. The first is the Photonics Knowledge Tree, designed by the 5 universities. Since the EM project stresses that students have to study in at least 2 EU countries, it becomes important to know how to avoid repeating the same topic or omitting any important photonics fundamental topic. They recently sorted out these core photonics topics and the time needed to study them, which is very helpful to students in choosing their courses. With this information, students can learn comprehensive photonics subjects more efficiently. The second thing is that they place much importance on fundamental photonics experiments during master years. I was especially impressed, and a bit put to shame, by Prof. Ajar Kar's 40 photonics experiments, which were splendidly displayed in his magnificent laboratory in Heriot-Watt University. I now believe that we should place more importance on expanding our fundamental photonics laboratories, both in undergraduate and graduate schools, even though its consumables are very expensive. The third is that, after visiting their laboratories, I now believe there are lots of opportunities for us to cooperate. Through guiding students' research together, each side could offset the weakness of its own by drawing on the strength of the other. And chances are that, by so doing, we can maximize our opportunities for making advanced research accomplishments. Some of our colleagues had already reached future cooperation agreements with professors from the 5 universities before the visit reached its end.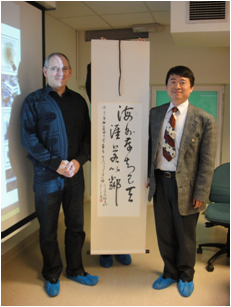 Figure 2: After his exciting briefing of the status of Vrije Universiteit Brussel in photonics research, Prof. Hugo Thienpont was gifted with a work of calligraphy.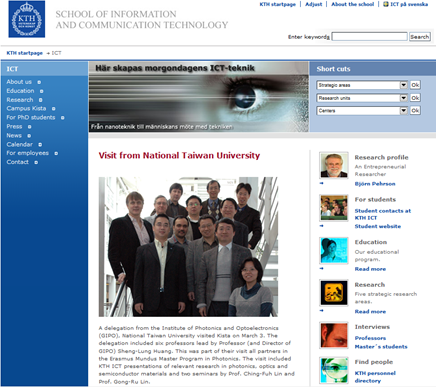 Figure 3: GIPO, NTU's visit was posted on the website as a top story of School of Information and Communication Technology, Royal Institute of Technology, Sweden.
Figure 4: Prof. Alan Miller (2nd from the left), Vice President of Heriot-Watt University, UK, gave his regards to us at the reception party.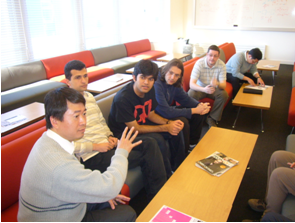 Figure 5: Having a relaxed informal discussion with EM students at University of St Andrews, UK.
In conclusion, this visit was the first step towards future cooperation between NTU and EU partner universities, because it has laid the groundwork for both double master degrees and academic cooperation. It is amazing and admirable that, after 5-year's integration and interaction, the 5 EU universities have evolved from 5 different educational systems, with different courses and different tuitions, into a strong, solid, and pluralistic photonics teaching and learning environment. It is thus anticipated that with NTU's participation, the EM project will create a more colorful double degree system infused with Taiwanese style. We believe that with the combination of Taiwan's abundant photonics production and research/development capabilities, and EU's innovative design concepts, we can create a new, academia and industry compatible style in photonics.